Hawaii Aquariums and Sea Life Park
One of the greatest features of Hawaii is its amazing marine life. Sharks, dolphins, turtles, rays, eels, octopi, lobster, sea horses and endless varieties of fish await you at Sea Life Park and The Maui Ocean Center Hawaii Aquarium. And you can save on admission to Hawaii aquariums and Sea Life Park in Oahu when you book online at ReserveHawaii.com. From up close views of turtles and sharks to dolphin swims to Hawaiian ray encounters, Hawaii aquariums and the Sea Life Park Oahu offer a variety of engaging and interactive opportunities for the marine animal lover in your family.
FEATURED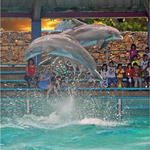 Oahu
41-202 Kalanianaole Hwy # 7 • Waimanalo, Oahu, HI 96795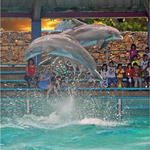 When you vacation in Hawaii and spend time on the beautiful island of Oahu, a visit to Sea Life Park Hawaii is a must! We deliver a one–of–a–kind experience that is entertaining, educational, and completely interactive. For many visitors, swimming with dolphins, rays, and sea lions is a dream come true.

Get up close and personal with our incredible and intelligent dolphins. Play with our funny sea lions. Watch an entertaining penguin trainer talk. Explore our fantastic array of sea life. Sea Life Park Hawaii features shows, personal aquatic encounters tailored to your interests, and interesting marine life exhibits.

Dolphin Cove Show
They'll jump, spin, flip, and entertain you. Relax in our large, open-air theater and watch our dolphins perform some of the most breathtaking moves you're ever seen. We've designed the show to be educational, amusing, and thrilling. Scheduled for 12:30 pm daily.

Hawaii Ocean Theatre
A popular series of shows take place in our comfortable, open–air, aquatic theater. View dolphins, penguins, and sea lions as we show you their talents and our trainers tell you about Sea Life Park Hawaii's conservation efforts.
Shows are at 1:45 pm & 3:40 pm daily.

Hawaiian Reef Tank
Take in Hawaii's stunning underwater ecosystem from top to bottom. This 300,000–gallon aquarium is home to more than 30 reef species, including impressive sharks, stingrays, and schools of colorful tropical fish.

Kolohe Kai Sea Lion Show
They're smart, fast, and funny! Sea lions are a delight to watch and our show highlights them in all their acrobatic glory. Shows are at 11:15 am & 2:50 pm daily.

Penguin Habitat Trainer Talk
You can watch penguins leap out of the water, sun themselves, or listen to one of our trainers talk about these amazing animals. You might even get to see them eat!

Sea Turtle Feeding
If you're curious about sea turtles and their care, then this exhibit is not to be missed. We have partnered with accredited facilities and experts to develop an ongoing program that fosters understanding and appreciation of these majestic creatures. Watch and learn about these amazing animals as our trainers feed them during regularly scheduled turtle feedings. Feedings scheduled at 11:00 am, 11:35 am & 2:10 pm.

Adventure Kids Play Zone
Ahoy there! Pirate's Lagoon is a fun place where children can run around our miniature maze and play area.

Adventure Kids Play Zone
A new behind-the-scenes tour of various areas of the facilities where incredible technologies are being developed in the field of aquaculture, or fish farming. Learn about various missions underway, such as replenishing depleted fishpond stocks, combating destructive invasive algae in Kaneohe Bay, and a proprietary shrimp farming method. A must-see for anyone interested in sustainability and food security. Scheduled for 1:00 pm daily
You Save:
$0.00

Select Tickets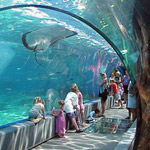 Maui
192 Ma'alaea Rd. • Wailuku, Maui, HI 96793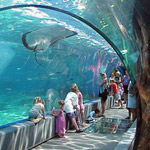 Voted Hawaii's "Top Family Attraction"
From the smallest coral polyp to the seven-foot sandbar shark, the intricate wonders of Hawai'i's ocean are showcased in over 60 indoor and outdoor exhibits at Maui Ocean Center. Each exhibit features marine animals living in habitats closely resembling their own natural environment.

The Living Reef
Over 40 realistically-designed exhibits take you on a journey from the rocky surge zone to the edge of the deep reef. See rarely encountered marine creatures: moray eels, octopus, lobsters, sea horses, nocturnal fish and much more!

Turtle Lagoon
Get up close and personal with Hawaiian green sea turtles at this outdoor two-view exhibit. See the animals from above the water, as they surface to breathe, or from a below-viewing window for a unique view of these beloved creatures. Maui Ocean Center's sea turtles are part of a hatch-and-release program and will eventually be released in the wild.

Hammerhead Harbor
Come eye to eye with hammerhead sharks, known for their amazing shapes and unique predatory hunting maneuvers.

The Tide Pool
Get a hands-on feel for Hawaii's invertebrates at the Tide Pool. Constructed in the form of an ocean rock pool, the Tide Pool holds a variety of harmless marine animals.

Marine Mammal Discovery Center
See the world from a whale's point of view! The new exhibit retains a few of the humpback whale displays, while several new features focus on the various species of dolphins and whales found in Hawaiian waters, plus the state's most endangered marine mammal, the monk seal. The 3,000 square-foot exhibit includes several interactive displays and graphic boards on marine mammals, life-size models of a monk seal mother and pup in a realistic beach setting, and the most dynamic new exhibit, the Bubble Net.

Sea Jelly Gallery
Watch moon jellies as they appear to dance before your eyes in a stunning floor-to-ceiling cylinder, perhaps the aquarium's most soothing exhibit. Their gentle pulsating and pumping prevents the jellies from sinking while increasing the likelihood of it capturing prey in its stinging tentacles.

The Open Ocean
A 54-foot-long clear acrylic tunnel transports you through this underwater realm, providing a 240-degree view of nearly 2,000 fishes, while stingrays slide overhead and sharks look visitors in the eye. This 750,000-gallon salt-water aquarium is the largest in the state.

Discover & Dine Deluxe Package:
Free week upgrade, Stingray Lunch (restaurant operating hours from 11:00 am - 2:30 pm daily), Endless Cup and Souvenir Photo (for Adults & Seniors) and child's gift (for Children).
You Save:
$0.00

Select Tickets


Now Searching...

---
"

Very satisfied. It was clear and easy.

"
–
Clive, IA
Read More »